Show Both, Only Display Products Once
Bounce House And Water Slide Rental in Miami
Welcome to Just Bounce Miami, the premier provider of Bounce Houses and Party Rentals in Miami, FL!
Welcome to Just Bounce Miami, the premier provider of Bounce Houses and Party Rentals in Miami, FL! We offer a wide range of options, including bounce houses, water slides, toddler bounce houses, carnival game rentals, mechanical bull rentals, table and chair rentals, tent rentals, and more. Our rental options are perfect for a variety of events, such as corporate picnics, church events, school events, field days, college events, and more. At Just Bounce Miami, we take pride in offering the best selection and customer service in the Miami area.
Safety is our top priority at Just Bounce Miami. All of our inflatable units are insured, inspected, and cleaned daily with anti-microbial coatings for your peace of mind. Our team ensures that each unit is set up correctly and meets all safety standards. We take safety seriously, so you can focus on enjoying your event.
When you choose Just Bounce Miami, you can expect a team that prioritizes accuracy, dependability, and safety. We're committed to providing exceptional service to each and every customer. We believe that our excellent customer service and attention to detail set us apart from the competition. Our reputation for excellence is demonstrated by the many customer referrals we receive.
If you're looking for safe and reliable inflatable rentals in Miami, FL, choose Just Bounce Miami. We're here to make your next event a success!
Our Service Area Proud to Serve The Following Areas:
Miami
Coral Gables
Hialeah
Miami Beach
Pinecrest
Pembroke Pines
Davie
Southwest Ranches
Homestead
Hialeah Gardens
Doral
Palmetto Bay
Hollywood
South Miami
Aventura
Key Biscayne
Aventura
Miramar
Kendall
West Park
West Park
Sunrise
Surfside
Cutler Bay
Medley
If your project site is outside our normal service area, just let us know! We do deliver even farther out, and special accommodations can usually be made to suit your project.
NOTE: Extra fees may vary depending on how far you are outside our service area.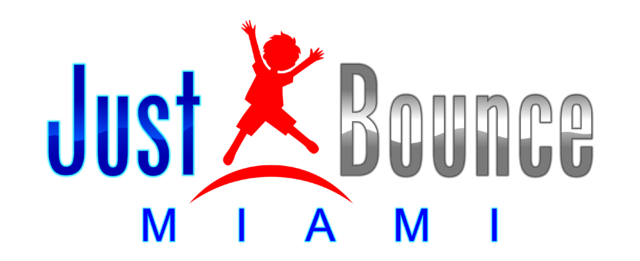 Need a Bounce House Rental Fast?
Just Bounce Miami - Creating Unforgettable Moments and Exceptional Entertainment for Every Occasion

Welcome to Just Bounce Miami, the premier destination for creating unforgettable moments and delivering exceptional entertainment for all your special occasions. With our extensive range of high-quality party supplies and unwavering commitment to service excellence, we are dedicated to making your event a resounding success. From bounce houses and water slides to tables, chairs, and everything in between, Just Bounce Miami is your one-stop shop for all your party rental needs.

Tables and Chairs: Set the stage for a comfortable and stylish event with our impressive selection of tables and chairs. Whether you're hosting an intimate gathering or a grand celebration, we offer a variety of options to suit your needs. From elegant banquet tables to sleek cocktail tables and a wide range of chair styles, our furniture collection will elevate the atmosphere and provide a comfortable seating experience for your guests.

Fun and Games: Take your party to new heights of excitement with our thrilling selection of bounce houses, water slides, interactive games, and obstacle courses. Our bounce houses come in various themes and sizes, perfect for children and adults alike. Watch as your guests jump, slide, and bounce with joy, creating unforgettable memories that will be cherished for years to come. Our interactive games and obstacle courses provide endless entertainment and friendly competition, ensuring that your event is packed with fun and excitement.

Party Packages: Planning a party can be a daunting task, but our convenient party packages make it a breeze. Whether you're hosting a birthday bash, a corporate event, a wedding reception, or a family reunion, our carefully curated packages offer a hassle-free solution. Each package includes a combination of our most popular rentals, designed to create a cohesive and memorable experience. You can customize your package to suit your specific needs and budget, ensuring that every detail is taken care of while you focus on enjoying the celebration.

Inflatable Bounce Houses - Where Fun Takes Flight!

At Just Bounce Miami, we take pride in our extensive selection of inflatable bounce houses, designed to take fun to new heights. Our bounce houses come in a variety of themes, from princess castles and superhero adventures to tropical jungles and underwater wonders. Let your little ones' imaginations run wild as they bounce, slide, and play in a safe and secure environment. Our bounce houses are made from high-quality materials and undergo rigorous safety checks, ensuring a worry-free experience for both kids and parents.

Water Slides - Make a Splash at Your Event!

Beat the heat and make a splash with our exhilarating water slides. Perfect for hot summer days or any occasion that calls for a refreshing twist, our water slides provide hours of entertainment and laughter. From towering slides with twists and turns to dual-lane slides for friendly races, we have a wide range of options to suit different age groups and preferences. Our water slides are equipped with safety features such as secure climbing walls, splash pools, and sturdy landing areas, ensuring a thrilling yet safe experience for all participants.

Interactive Games - Engaging Entertainment for All Ages!

Add an extra level of excitement to your event with our interactive games. From inflatable obstacle courses to sports challenges and carnival-style games, we have an array of options to keep your guests entertained and engaged. Watch as participants compete, laugh, and bond over friendly competitions, creating lasting memories and fostering a sense of camaraderie. Our interactive games are suitable for all ages and skill levels, making them a versatile choice for corporate events, school functions, or backyard parties.

Obstacle Courses - Conquer the Challenge!

For those seeking an adrenaline rush and a test of physical prowess, our inflatable obstacle courses are a perfect choice. Challenge your guests to navigate through tunnels, climb walls, and conquer various obstacles as they race against the clock or compete head-to-head.
Welcome to Just Bounce Miami
Bounce House Rental In Miami