Toxic Meltdown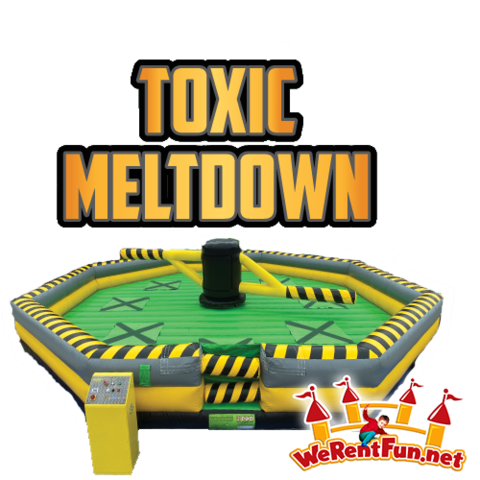 -$30.00

Please call to reserve this item.


*Holiday Pricing May Vary
Setup Area: 40'L / 40'W / 15'H
Actual Size: 30'L X 30'W X 10'H
Monitors: We Rent Fun provides a staff member with this attraction
Outlets: 2 - 120v
Description
Get ready for a pulse-pounding adventure unlike anything you've ever experienced! Introducing the Just Bounce Miami Toxic Meltdown—an adrenaline-fueled, heart-pumping attraction that will challenge your skills, reflexes, and stamina in a toxic wasteland-themed setting.
As you step into the neon-lit arena, you'll be transported to a post-apocalyptic world where toxic chemicals have contaminated the environment. The toxic meltdown site is a sprawling maze filled with obstacles, hazards, and surprises at every turn. With its state-of-the-art technology and immersive design, the experience will leave you breathless and exhilarated.
Equipped with a specialized suit, you'll need to navigate through a series of multi-level platforms, swinging pendulums, rotating barrels, and collapsing bridges—all while avoiding bursts of toxic vapor that could slow you down. The challenge lies in your ability to react swiftly and strategically to each obstacle, using your agility and balance to stay on your feet.
But the excitement doesn't stop there! The Toxic Meltdown features an interactive component that adds a competitive edge. You'll be competing against other participants, testing your speed and agility in timed challenges and races. Race against the clock as you strive to achieve the fastest time, or engage in friendly competition with your friends and family to see who can conquer the toxic wasteland with the most finesse.
With pulsating music, vibrant visuals, and atmospheric lighting effects, Just Bounce Miami Toxic Meltdown is an immersive experience that will transport you to a dystopian world like no other. Whether you're a thrill-seeker, a fitness enthusiast, or simply looking for an unforgettable adventure, this attraction promises an electrifying and unforgettable experience that will keep you coming back for more.
Step into the Toxic Meltdown, and prepare to bounce, dodge, and leap your way to victory in this high-energy, heart-racing challenge that pushes your physical limits and unleashes your inner daredevil.