Water Slides

All prices shown include *FREE DELIVERY!

*With minimum order amount per zip code

Displayed Pricing = 3 days rental (BEST VALUE)

*Single-day rentals are not available at the moment.

Weekend Rental = Delivered Friday before 8 PM and Pick Up Monday After 8 AM
R116 - 20Ft Miami Fire Double Lane Water Slide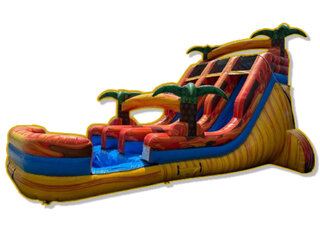 More Info
R104 - 25Ft Island Splash Water Slide With XL Pool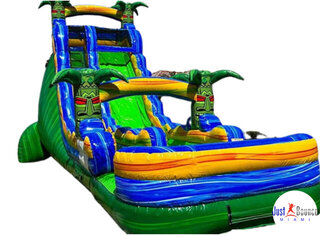 More Info
R77 - 22' T Rex Water Slide - Dinosaurus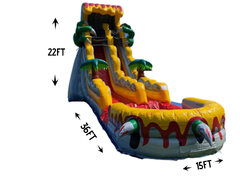 More Info
R64 - 20Ft Tiki Double Splash Water Slide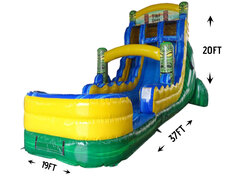 More Info
22Ft Blue Crush Water Slide with XL Pool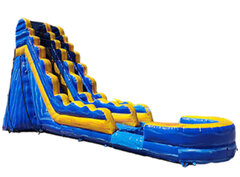 More Info
11Ft Little Kahuna Slide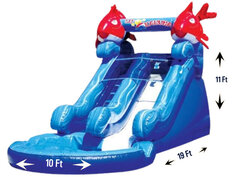 More Info
18Ft Tropical Paradise Water Slide with XL Pool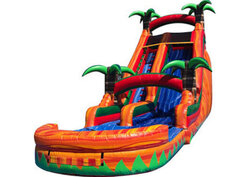 More Info
12Ft Tropical Fun Water Slide With Pool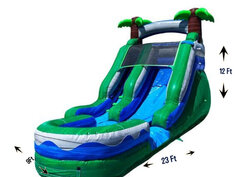 More Info
16Ft. Bad Ass Water Slide With XL Pool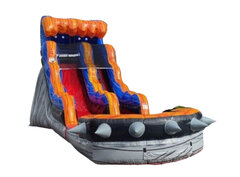 More Info
R92 -Enchanted Kingdom Bounce House with Slide With Super XL Pool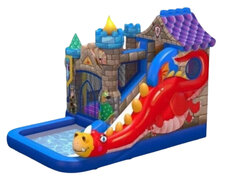 More Info
Medieval Bounce House With Slide (Wet or Dry)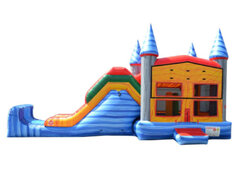 More Info
Unicorn Kingdom Bounce House With Slide (Wet & Dry)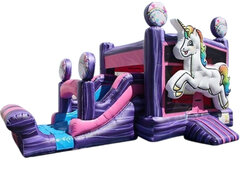 More Info
R16 - 12ft Multicolor Water Slide With Pool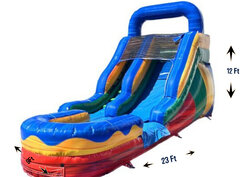 More Info
Just Bounce Miami is your premier destination for all your water slide rental needs in Miami. We are thrilled to offer FREE delivery on all water slide rentals, and an amazing 3 days for the price of 1 rental deal all year long! Our mission is to create unforgettable and exhilarating experiences while ensuring that all water slides are clean, sanitized, and secure. We hold full insurance and safety certifications in both Miami Dade and Broward counties.
Water slide rentals are the ultimate enhancement for any party or event, especially under the warm Miami sun. With our custom party theme options, we create a one-of-a-kind experience that will leave a lasting impression on your guests. Explore our fantastic range of water slide rentals and simply click "add to cart" when you find the one that will make your party truly stand out! We prioritize providing professional full-service delivery, setup, and breakdown of all water slides, with a standard 3 days for the price of one rental time. Our team is committed to ensuring a stress-free and hassle-free reservation experience.
Just Bounce Miami streamlines the reservation process with our user-friendly online system. If you prefer, our team is ready to assist you over the phone at 305-909-2686 – we are both call and text friendly. Don't hesitate, book now and let Just Bounce Miami take your event to new heights with our exciting water slide rentals in Miami!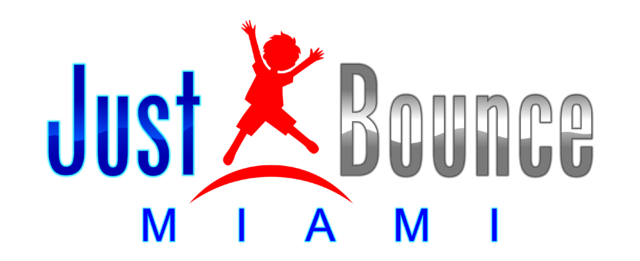 Need a Bounce House Fast?
Make a Splash with Water Slide Rentals in Miami - Just Bounce Miami
When the Miami heat hits, there's no better way to beat it than with water slide rentals from Just Bounce Miami. We bring the thrill and excitement of water slides right to your doorstep, making your event a splashing success. With a wide selection of high-quality water slides and our commitment to exceptional service, we are the go-to destination for unforgettable aquatic adventures in Miami FL, Davie FL, Hialeah FL, Pembroke Pines FL, Coral Gables FL, Miramar FL, and
Why Choose Just Bounce Miami for Water Slide Rentals in Miami?

Extensive Selection of Water Slides: We offer an impressive range of water slides that cater to different age groups and preferences. Whether you're planning a kids' birthday party or a corporate event, we have the perfect water slide to suit your needs. From towering slides with twists and turns to dual-lane slides for friendly competitions, our water slides guarantee hours of exhilarating fun under the Miami sun.

Safety is Our Priority: At Just Bounce Miami, safety is paramount. All our water slides are made from top-quality materials and undergo rigorous safety checks to ensure a secure sliding experience. We regularly inspect and maintain our slides to guarantee that they meet the highest safety standards, giving you peace of mind as you watch your guests slide and splash with joy.

Professional Service and Timely Delivery: We pride ourselves on delivering exceptional customer service. Our dedicated team is here to assist you every step of the way, from selecting the perfect water slide to ensuring its timely delivery and setup. We understand the importance of punctuality and reliability, and we strive to exceed your expectations by providing prompt and professional service.

Unforgettable Events for Any Occasion: Whether you're planning a backyard birthday party, a community gathering, or a school function, our water slides will take your event to the next level. Picture a tropical oasis in your own backyard, complete with a thrilling water slide that will make a lasting impression on your guests. Our water slides can transform any event into a fun-filled water park adventure, ensuring smiles and laughter all around.

Competitive Pricing and Packages: We believe that everyone deserves the chance to experience the joy of a water slide. Just Bounce Miami offers competitive pricing and value-packed rental packages to accommodate any budget. We aim to provide the best value for your money without compromising on the quality and excitement of our water slides. Let us help you create unforgettable memories without breaking the bank.

Water Slide Rentals in Miami - Serving Your Neighborhood

At Just Bounce Miami, we're proud to serve the entire Miami area, including neighborhoods such as Coral Gables, Coconut Grove, South Beach, Brickell, Kendall, and beyond. No matter where you're located in Miami, we'll bring the fun to your doorstep. Our goal is to make water slide rentals accessible and convenient for residents and businesses throughout the city, ensuring that everyone can enjoy a thrilling water slide experience.

Planning an event in Coral Gables? Our water slides will add an extra splash of excitement to your gathering. Hosting a birthday party in Coconut Grove? Our selection of water slides will turn your backyard into a water park paradise. Celebrating a special occasion in South Beach? Let us bring the water slide fun to your beachside event. Wherever you are in Miami, Just Bounce Miami is here to make your event a memorable success.

Booking Your Water Slide Rental with Just Bounce Miami
Renting a water slide from Just Bounce Miami is a breeze. Simply visit our website at www.justbouncemiami.com and browse our extensive selection of water slides. Choose the slide that suits your event's theme and requirements. Our user-friendly online booking system allows you to select your rental duration, schedule delivery, and provide any special instructions. If you have any questions or need assistance, our friendly team is
Water slides are the perfect addition to any outdoor event in Miami. Known for its sunny weather and beautiful beaches, Miami is an ideal location to host parties and gatherings. Whether you're planning a backyard barbecue, a community festival, or a corporate outing, a water slide rental from Just Bounce Miami will take your event to new heights of excitement.
Miami's Unique Water Slide Rental Experience
When it comes to water slide rentals in Miami, Just Bounce Miami stands out for its commitment to providing a unique and unforgettable experience. We understand that every event is special and deserves the utmost attention to detail. That's why we offer a diverse selection of water slides that cater to different age groups, preferences, and event sizes.
For the little ones, we have smaller water slides that are safe and enjoyable for children of all ages. These slides feature gentle slopes, vibrant colors, and exciting themes that spark their imagination. From princess-themed slides to pirate adventures, the little ones will have a blast sliding down and splashing into the pool at the bottom.
For older kids and teenagers, our larger water slides offer a thrilling experience. These slides are designed with twists, turns, and exhilarating drops that will leave them screaming with joy. They provide the perfect adrenaline rush for those seeking a more exciting adventure. With their impressive heights and daring features, our larger water slides are sure to be the highlight of any event.
Safety: Our Top Priority
At Just Bounce Miami, safety is our utmost priority. We understand that when it comes to water slides, ensuring the well-being of your guests is of the utmost importance. That's why we go above and beyond to maintain the highest safety standards in the industry.
Our water slides are constructed with durable and high-quality materials that are specifically designed for safe sliding. We regularly inspect and maintain our slides to ensure that they are in excellent condition and free from any potential hazards. Additionally, our experienced and trained staff will set up and supervise the water slide to ensure a safe and enjoyable experience for everyone.
We take additional safety measures, such as providing safety guidelines and instructions for proper use, as well as ensuring that the surrounding area is clear and free from obstacles. With our commitment to safety, you can have peace of mind knowing that your guests will have a fantastic time while being well-protected.
Delivery and Setup
Planning an event can be stressful, but with Just Bounce Miami, we make the process seamless and convenient. Our dedicated team will handle the delivery, setup, and takedown of the water slide, allowing you to focus on enjoying the event and creating memories with your guests.
Our professional staff will arrive at your event venue at the designated time and ensure that the water slide is properly installed and secured. We will walk you through the safety guidelines and provide any necessary instructions to ensure a smooth and enjoyable experience for all participants. At the end of your event, our team will efficiently dismantle the water slide and remove it from the premises, leaving no trace behind.
Customer Satisfaction: Our Ultimate Goal
At Just Bounce Miami, customer satisfaction is at the forefront of everything we do. We strive to exceed your expectations by providing exceptional service, high-quality rentals, and a seamless rental experience. From the moment you contact us to the completion of your event, we are dedicated to ensuring that your water slide rental exceeds your expectations.
We value your feedback and are always looking for ways to improve our services. Our friendly and knowledgeable staff is available to answer any questions you may have, provide recommendations based on your specific needs, and assist you in choosing the perfect water slide for your event.
Book Your Water Slide Rental Today!
Don't let the Miami heat dampen your event. Book a water